had a goal for 2020; To utilize and explore all of the natural resources around me, both in my own backyard, and within my community. I had no idea that 3 months later a global pandemic would shut the world down, but it does seem to have afforded me more time for exploring and experimentation. 
When the sap began to flow in February, I tapped my backyard maple trees and made my own maple syrup in a large pan over my fire pit. 
When it was time to start seeds, I built my own makeshift greenhouse in the yard using reclaimed wood and a painters tarp which happened to be 4mm thick, clear LDPE.
When the dandelions bloomed, I planted potatoes in the garden (an old farm fact for knowing when the time is right) and then plucked some of the petals and made dandelion honey. 
And when I was hiking in the woods and watching for fiddleheads, I spotted a giant old pine tree and decided this was my chance to try Scandinavian Pine Bark flour.
I'll admit, my motivation for making this flour wasn't because of any reported health benefits or because I have a weird desire to eat pine trees. I came across this method by accident, and the thought of making something old, from another culture, was way too tempting. This pine bark flour comes from the Sami people of the nordic regions, and my desire to connect with something out in the great wide world was strong. Maybe that does have something to do with the global pandemic and everything being locked down. 
This creative project was inspired by a homestead blog I love to read, called Practice Self Reliance. As a vegan, I'll likely never try her suggestions for how to eat crows (seriously) but she has some great insights for living off of the land. You can read her experience with making pine bark flour here:  
So there I was out in the woods and having a lovely little hike with my dog Snow, when I came across a great old pine tree with healthy branches and towering far up into the sky. I figured if any tree can sustain the loss of a tiny bit of outer bark, it was likely this one.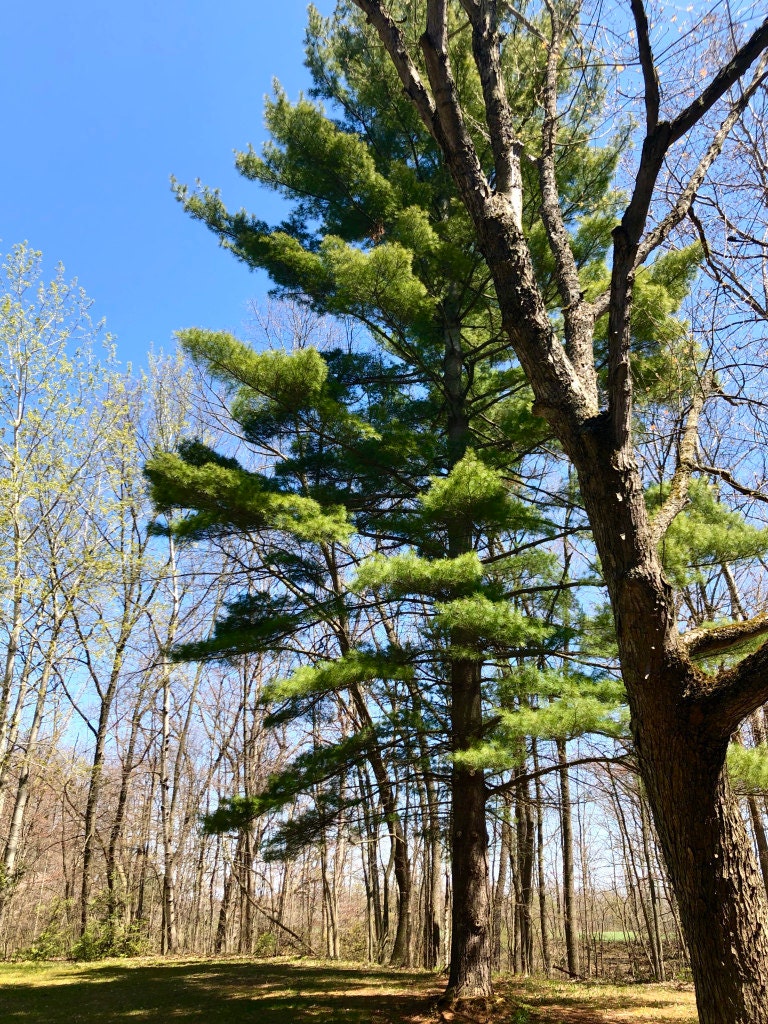 I used my utility knife to remove a small portion. The outer bark is super tough, but by driving the point upward under a raised section, I was able to lift it outwards and remove it in chunks. Only take a little bit at a time, and as you need it - our trees need their outer bark to protect them from disease and pests. You can see from my photo that I only took what would fit in the palm of one hand - trust me, it will be enough.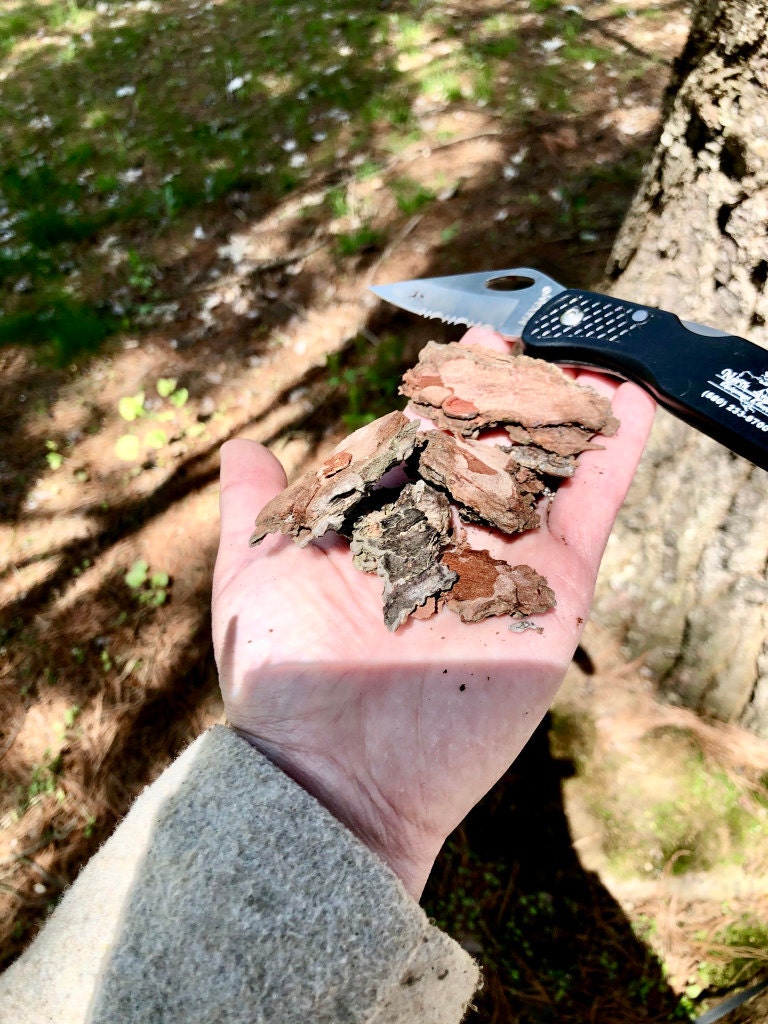 I came home and let the pieces soak for a bit (to encourage any tiny bugs to depart) and then gave them a wash under running water. Since I didn't want my house to smell like roasting pine trees, I placed them in a pan and dried them out in my barbecue on the deck. I kept the temperature around 375F and let them roast for approximately 25 minutes. I could see when the moisture had departed because it left little rivulets in my pan. The bark also looked very dry. 
This next step could have been done in my food processor, but I really wanted to use my stone pestle and mortar. I've had this one for about 10 years and use it often for grinding spices or making oat flour - The large bowl, and the heavy stone pestle make it my favourite kitchen tool.
The grinding of the flour didn't take long at all. I broke up the large pieces by tapping at them, and then ground those pieces into a flour. I used a fine mesh sifter to isolate the larger chunks and then reground them and put them back through the sifter until all of it was smooth and powdery. I ended up with about 1/4 cup of pine bark flour and I was happy with that. 
I was really tempted to use this flour to make crackers, but decided to play it safe and try it in a specific bread recipe I use instead. This bread is a no-knead, overnight dough that uses white flour, whole wheat flour, and then a small amount of whatever grain flour you desire. Usually I go with oat flour, but I felt in this case the pine bark flour would be a good substitute.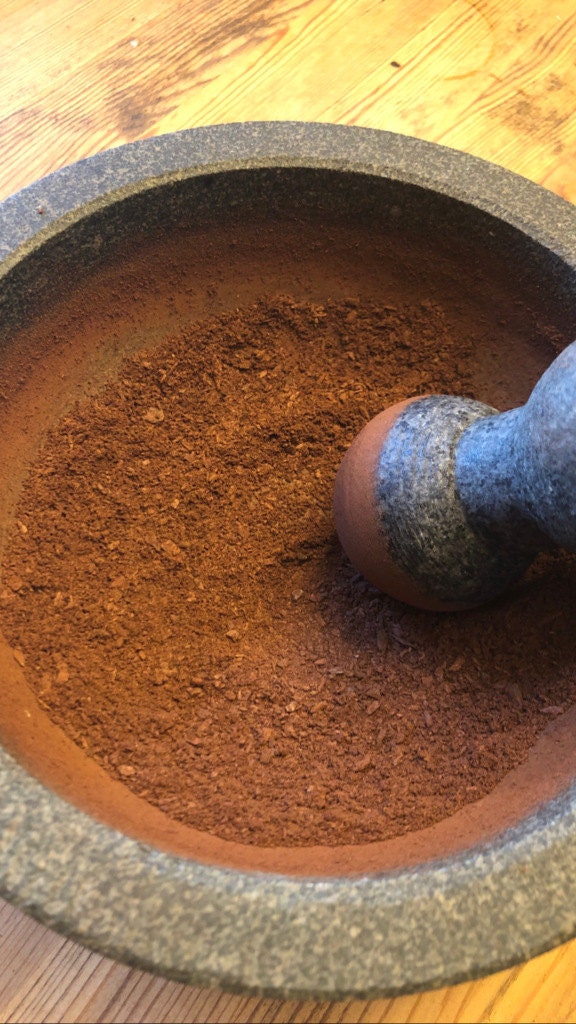 You can see how it affected the colour of my bread from the photos. As far as the development, it had no effect on the rise or baking. It did however smell like my cedar hedge, and that was a little off putting. 
To be honest, I lost my nerve a bit at this stage. Thankfully, I had ended up with more seedlings than my yard or garden could hold so my sister Sarah came over to collect them from my backyard. She was also very curious about the pine bark bread and encouraged me to slice it up and eat some with her. 
As always, sharing food with someone can turn any uneasy situation into a communal one. And let's face it, this time of isolation and quarantine has all of us craving a little communion.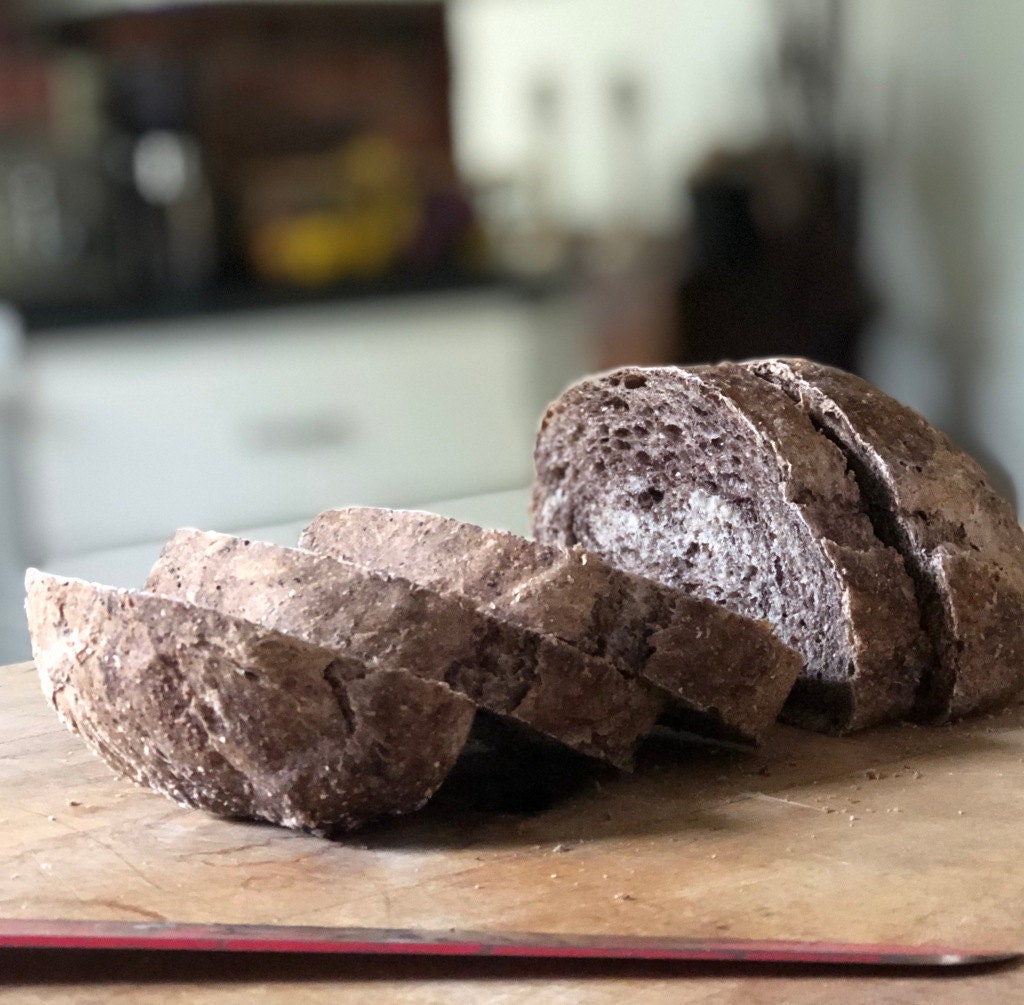 We ate the pine bark bread slightly toasted with some vegan margarine and drizzled with some of my homemade dandelion honey. I loved the rustic combination of flavours. You could definitely taste the pine tree bark, but somehow that woodsy flavour paired with the strong floral flavour of the dandelion honey made it such a pleasant experience. 
I would have to say that YES I would make and eat this flour again. The flavour was so original, and I did end up loving the unique, forest-like flavours all together. I would however use this pine bark flour in a cracker the next time, and I think it would pair really well with some of my smoked vegan cheeses and dandelion leaf pesto. 
Do I think the flavours suited the bread? NO. It may be called a flour, and it may look like a flour, but there was a definite grittiness to the bread that reminded me it wasn't flour. I found the grittiness unpleasant enough to not like the bread, however my sister loved it. 
So what do you think? If you had the opportunity, would you try something made from Scandinavian pine bark flour?