A few years ago I experimented with painting sugar cookies prior to baking, but I didn't like the result. Once the cookies had puffed up slightly in the oven, it cracked the coloured finish and ruined the look I was going for. I had a theory that pie pastry would give a better finish since it technically doesn't rise, and I was right. 
Pastry paint happens in the egg wash stage, and involves only an egg, some water, and some food colour paste or spray. To make the pie shown here, I used both; The leaves and flowers were all painted with eggwash and paste food colour and the blue flowers were sprayed with food colour liquid.
The liquid spray definitely produced a more vibrant colour, but as always when using food colouring, you just want to ask yourself what level of processed ingredients you are comfortable with. For me, the blue spray seemed fairly unnatural and unappetizing. 
While the eggwash paints were more muted before going into the oven, I just loved how vibrant all of the colours were when they finished baking! It's important to remember that the painting happens before baking because we're using egg - but if you're a vegan like myself, or just have an aversion to eggs in general, you can also create this look by adding food colour to about a tablespoon of organic soy milk. In my line of work, I mostly bake for omnivores so my paints use eggs.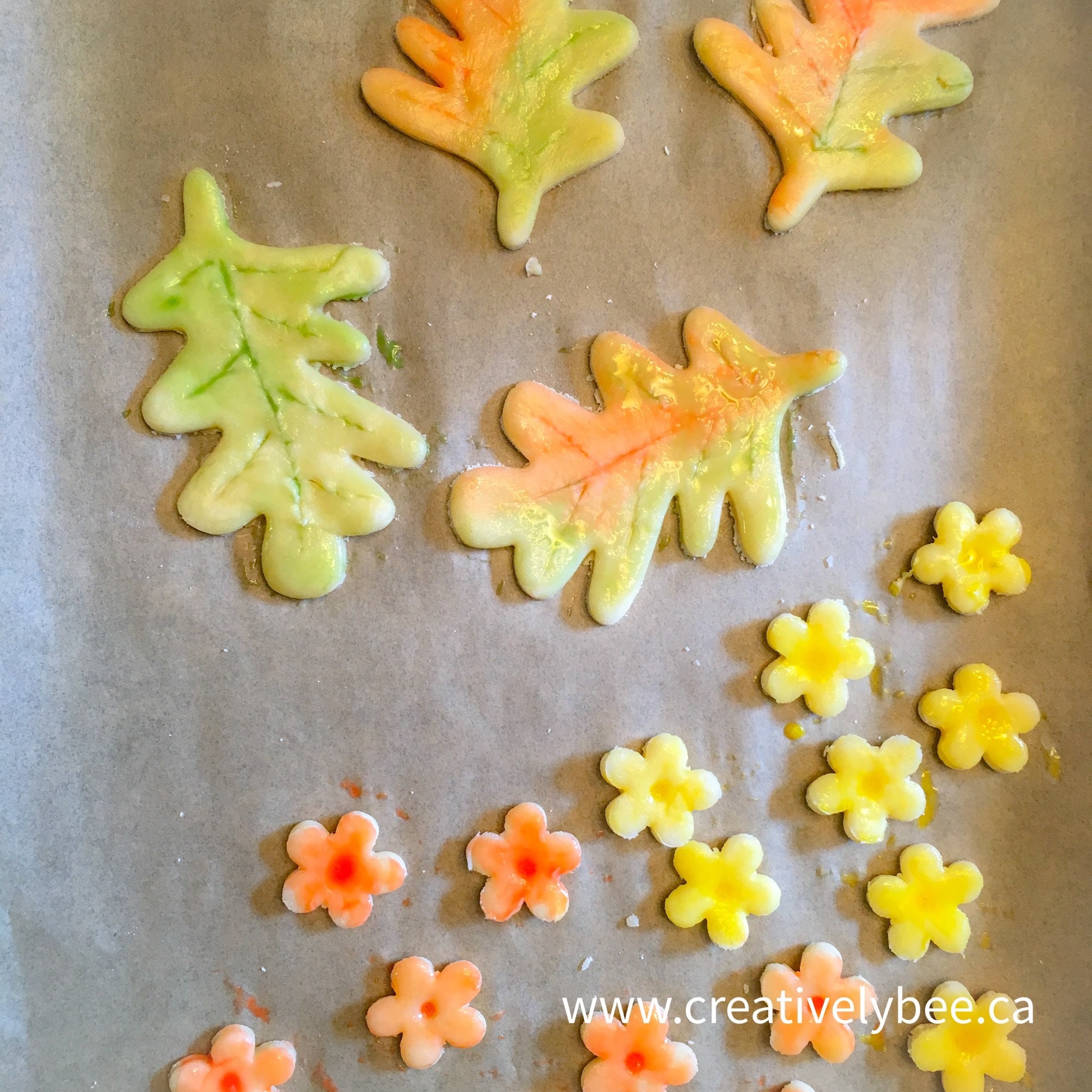 For the baking: I laid my cut and freshly painted pieces on a cookie sheet, and then assembled them afterwards onto my pumpkin pie. The "glue" and clear glaze that was used for finishing, was just a bit of icing sugar mixed with water. The glaze gives all of that extra pastry a nice flavour that you can enjoy on it's own (if that much pastry on your pie seems like overkill). Also to the finished product were sugared cranberries and pecans, because I love the rustic look of fruit and nut garnishes!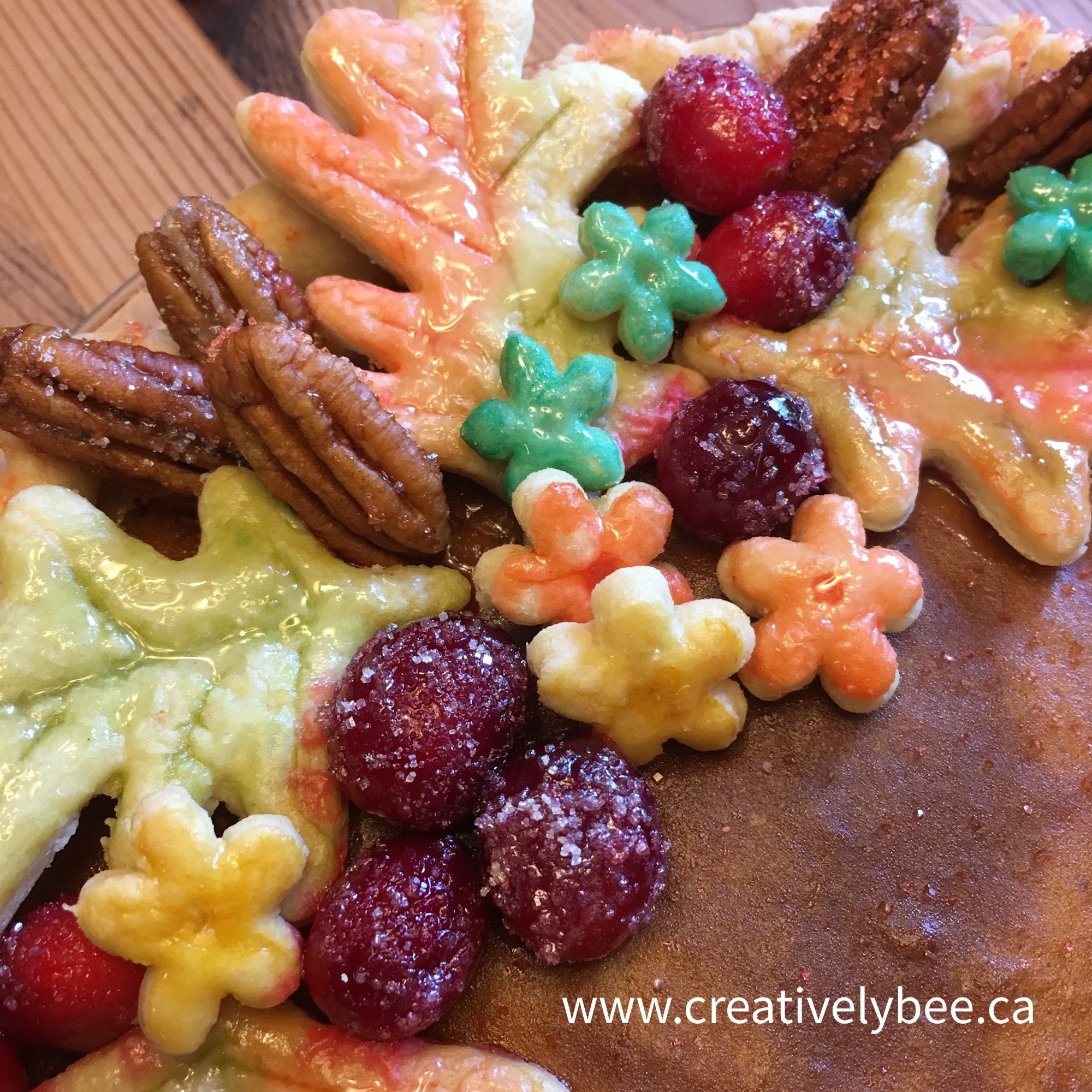 Here's how I put this particular pie together. Have fun with your own creations and if you paint a pie, I'd love it if you tagged me! #creativelybee  
 The Pastry Paint - Recipe  
1 egg
1 tablespoon water
food colour
food safe paint brushes
small mixing cups for colours
toothpicks
Place the egg in a glass and whisk with the water for about half a minute. The water will break down the egg and make it less gluey. Divide your egg mixture between the mixing cups. 
Using disposable toothpicks, add colour to your egg wash and mix the pots of colour. Paint your pastry! Be liberal with your egg wash, it will soak in. 
Bake the pieces until browned on the bottom and remove from the oven. The size of your pieces will make the cooking times vary, but these particular pieces were baked for 10 minutes at 350F. Bake your pie seperately.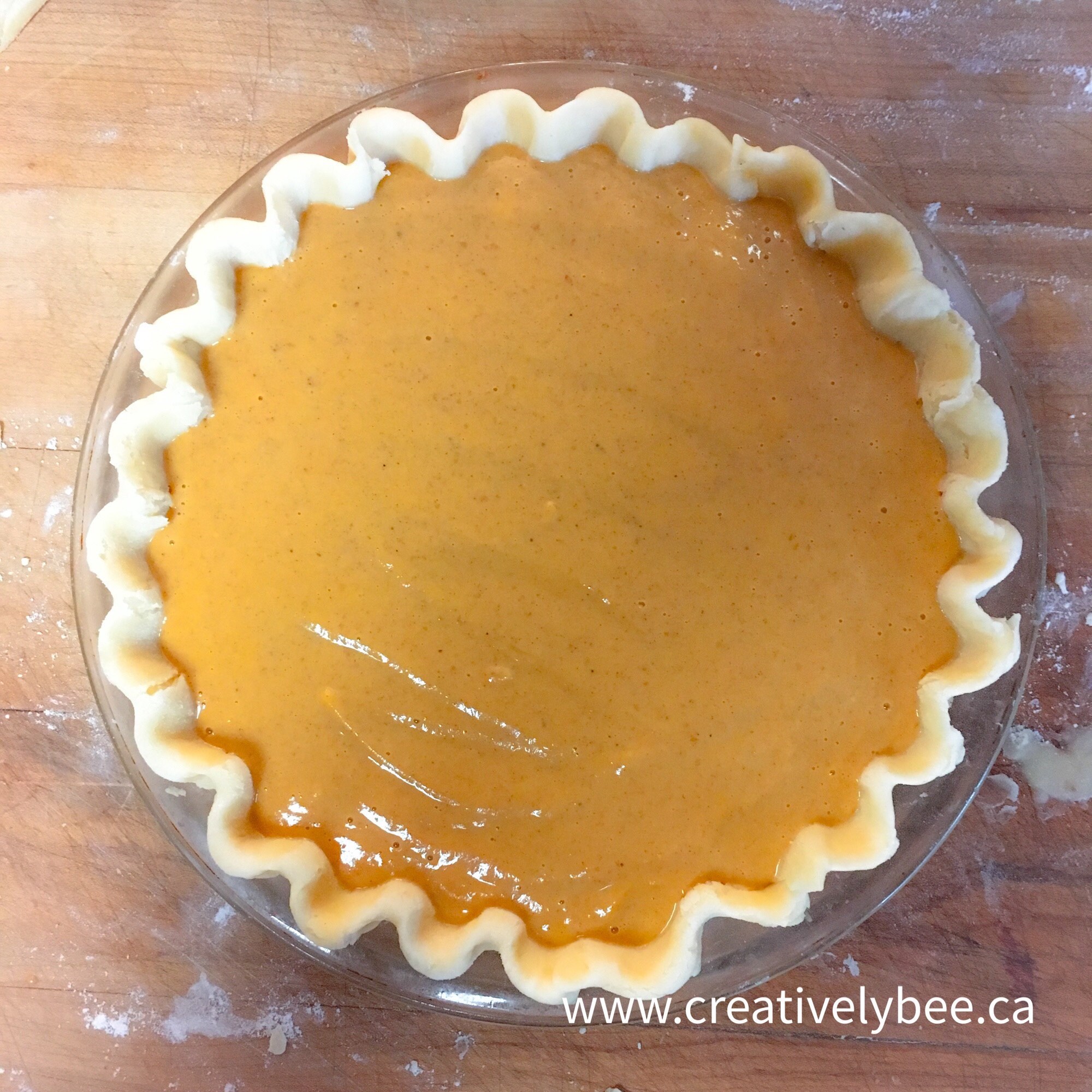 Assemble your pie using a glaze mixed with icing sugar and water. Once it dries it will harden slightly and help hold everything in place. It also makes a nice all-over glaze for shine and flavour. 
Post your creations online and use the hashtag #creativelybee so I can see your work! I can't wait to see what you come up with!