When I was 16 I auditioned - and was accepted -  into art school. Anyone who knows me knows that I express myself creatively so that's probably not a surprise. 
What does surprise people is that the art programs I was accepted into were drama, and vocals. I also played clarinet in the band and hung out in the dance studio, but mostly I used to sing my heart out, and always imagined the stage in my future. 
Costume design, stage make up, the dances, the lights, the audience. I had the honour of taking the lead in a production once, and every performance was a transformation. 
We're going deep into the archives here, because I literally never talk about this, ever. For me it was a childhood dream that I eventually put away, and at some point I let people think art school was all about textiles. 
It feels like 100 years ago that I pulled a rib muscle during a dance routine, or that I had an acting coach named Joe who put me through the most ridiculous drama exercises, like pretending I was the camembert cheese on a charcuterie plate. 
I'm weird, he was weirder. Sometimes I wonder what ever happened to him and if he is still teaching young people to connect to their souls. 
Life is complicated, and it has seasons. My bus driver taught me this on the day I learned that I might not be able to devote my life to theatre, the consequence of some very bad personal choices I was making. 
Mr. M (as we called him) was the most fascinating bus driver and each day on the bus, some struggling teen would find themselves going to the seat directly behind him for a bit of advice. It was on one of my trips to the front of the bus that he told me about life having seasons, and that we can be whatever we want to be, whenever we choose to be. 
Every day at 3:15pm he sat behind the wheel of a school bus and picked us up from the art school. 
Also every day, from 7:30am to 2pm, he was a professor at the local university. He always wanted to be a teacher, so he was. He always wanted to be a bus driver, so he was that too. He also wanted to have a beard down down to his belly button, and it suited him so well. 
I've taken Mr. M's advice with me throughout my life and have learned to recognize when my seasons are changing. This past year, I am seeing the change once again. 
My daughter is grown and is now looking at universities for next year, and other than helping her with the odd research paper, or giving advice here and there, I find myself suddenly "back into myself". If you're a mom with grown kids, you know what I'm talking about.
So, since last spring I have been in school and am studying to become a PSW (personal support worker). This was work that I did briefly, unofficially, back when I was putting myself through business school (another story for another day), and I loved it. I had considered a career in nursing but I had none of the required credits (or grades) at the time and business was just easier. Now here we are 20 years (and a global pandemic) later, and I find myself with all of this free time and  - if I can be poetic - that seed in my mind has finally germinated because it is the uniquely right time for me. 
I am set to graduate as a PSW in January, 2022. 
I am also enrolled in a local college to finally get all of my science credits and brush up on my basics, which begins in a few weeks. I'll be applying to the nursing program early 2022 and hopefully I'll be accepted, but either way I will still be able to begin working in health care, and I'm excited to live this next life. 
So it is with aaaaallllllll of that, that I say thank you to all of the  people who have ordered cakes from me over the years, and it is with a little bit of sadness that I am closing that part of my website. Not being able to be part of peoples birthdays and celebrations is going to be hard - although the lockdowns of the past year and a half probably eased me into that more than I want to admit. 
Below is the last custom cake I made for a client. I joked earlier in the week that all of these western themed cakes make me feel like I'm "riding off into the sunset" but I have to say, this cake really makes me feel it.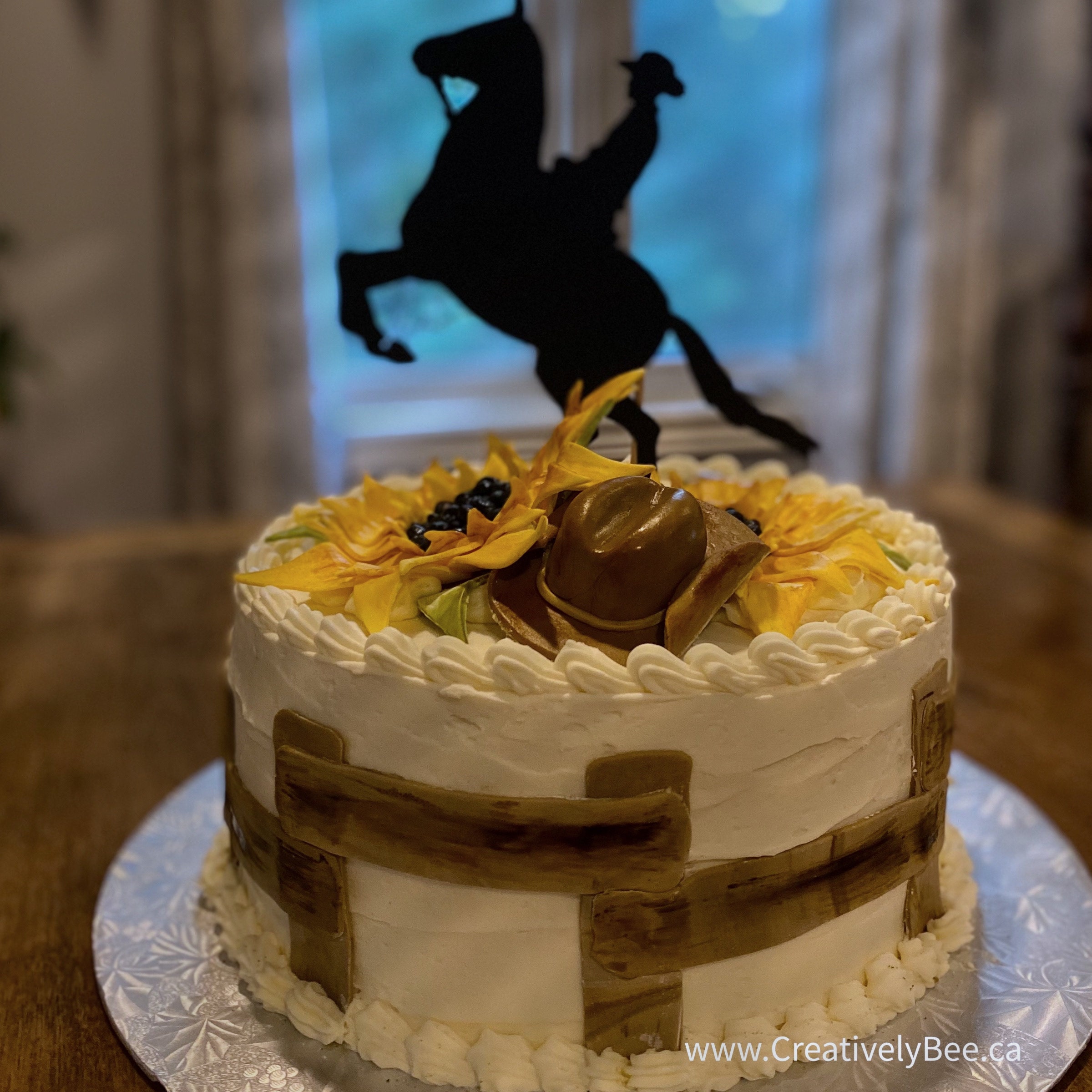 Next up, I'm due for a rant about how much I hate social media and feel like it's killing peoples creativity - but more on that later. I have homework to do and tomatoes that need canning . . . . . .#cakedecoratorsofinstagram #cakedecorating #foodart #westerntheme #horsecake #westerncake #equestriancake #lifechanges #seasonsoflife #creativelybee